Anniversaries & Days
Self-injury Awareness Day:  March 1
World Wildlife Day : March 3
National Defence Day : March 3
National Security Day : March 4
National Safety Day : March 4
International Women's Day : March 8
CISF Raising Day : March 10
Pi Day : March 14
World Consumer Rights Day : March 15
National Ordnance Factories Day : March 18
International Day of Happiness: March 20
World Sparrow Day : March 20
World Forestry Day : March 21
World Water Day : March 22
World Meteorological Day : March 23
World TB Day : March 24
Independence Day of Bangladesh : March 26
World Theatre Day : March 27
Appointments
Katerina Sakellaropoulou elected first female President of Greece : Greece's Parliament on January 22, 2020 elected the first woman President in the country's history, a senior judge with an expertise in environmental and constitutional law. A cross-party majority of 261 MPs voted in favour of 63-year-old Ms. Katerina Sakellaropoulou. The new President was until now the head of Greece's top administrative court, the Council of State. The daughter of a Supreme Court judge, Ms. Sakellaropoulou completed postgraduate studies at Paris's Sorbonne University. She was also the first woman to head the Council of State. Although the President is nominally the head of the Greek state and commander-in-chief, the post is largely ceremonial.
Honours & Awards
NATIONAL
Padma Awards 2020
Padma Awards 2020 were announced on January 25, 2020 on the eve of India's 71st Republic Day. The President of India approved conferment of 141 Padma Awards including 4 duo cases (in a duo case, the Award is counted as one). The list comprises 7 Padma Vibhushan, 16 Padma Bhushan and 118 Padma Shri Awards. The list also includes 18 persons from the category of Foreigners/NRI/PIO/OCI and 12 Posthumous awardees. The highlights
of the awards have been covered on Page No. 10 of this issue.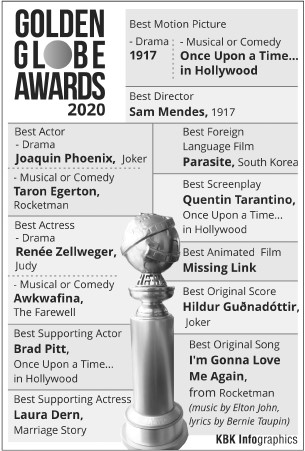 Places
Wuhan—The Epicentre of Coronavirus : The so far untreatable coronavirus, which led to World Health Organisation declaring Public Health Emergency on January 30, 2020, killed 563 people and inflicted more than 28,000 others as on February 6, 2020. The disease has spread internationally, infecting 170 people in more than 20 countries, including three in India and 11 in the US. The capital of Hubei province in central China, Wuhan, which is a city of 11 million people, is the epicentre of this virus. The outbreak is believed to have begun in a seafood and poultry market in Wuhan. The new coronavirus has been named 2019-nCoV.