India And Germany Sign 17 MoUs Five Joint Declarations Of Intent Exchanged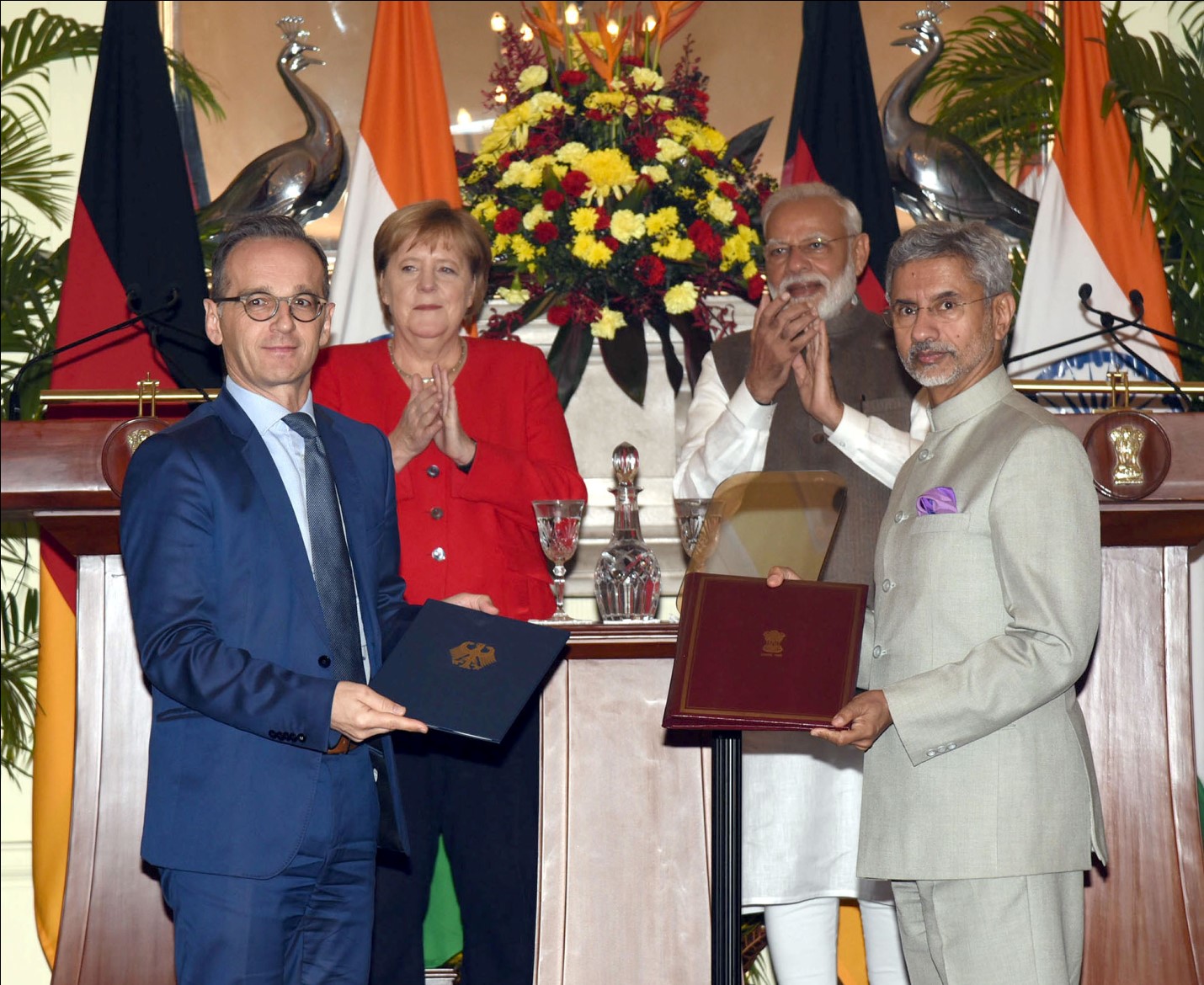 India and Germany inked 17 agreements and five joint declarations of intent in the fields including space, civil aviation, maritime technology, medicine and education during the 5th Indo-German Inter-Governmental Consultations (IGC) on November 1, 2019. The agreements were signed during the two-day visit of German Chancellor Ms. Angela Merkel who arrived in Delhi on October 31, 2019. Ms. Merkel and Prime Minister Mr. Narendra Modi held wide-ranging talks at Hyderabad House in New Delhi. After the consultations with Ms. Merkel, PM Mr. Modi said that the two countries resolved to intensify bilateral and multilateral cooperation to deal with the threats of terrorism and extremism. India and Germany will continue cooperation to expedite reforms in the UN Security Council, Mr. Modi said.
During the IGC, India, and Germany agreed to provide financial support to climate initiatives aimed at reducing greenhouse gas emissions, with the latter expressing its readiness to provide one billion euros to India for green urban mobility. In a joint statement, the leaders said that both the countries concurred that providing low-carbon and sustainable mobility solutions that serve the needs of all citizens is a key challenge for both emerging and industrialized economies. Mr. Modi and Ms. Merkel acknowledged their joint responsibility for the protection of the planet and mitigating climate change through the enhanced promotion of renewable energy and increasing energy efficiency and at the same time, reducing their carbon footprint. The countries also agreed to dedicate a part of the 35 million euros under the framework of the bilateral call of the International Climate Initiative to grid expansion and storage systems for renewable energy and a part to forest landscape restoration.
Signing a declaration of intent for cooperation in the field of skills development and vocational education and training, India and Germany agreed to take further steps to increase student exchange between the two countries. The two leaders welcomed the "Indo-German Partnerships on Higher Education". Both the nations agreed to take further steps to increase the number of Indian students studying in Germany, which presently stands at 20,800, and the number of German students studying in India. Emphasizing that Artificial Intelligence (AI) will fundamentally impact the way the world lives and works in the coming years, the two leaders intend to work together to foster, encourage and develop cooperation on the AI technologies and promote innovation. Germany and India agreed to consult each other for identifying best possible approaches to cybersecurity and also devise methods to identify areas of mutual cooperation in this regard. Concluding the meeting, the two leaders announced in a joint statement that India and Germany have agreed to deepen efforts to resume stalled negotiations for a free trade agreement between India and the European Union.